Cisco Small Business RV Series Routers: Overview

Connecting your small business to the outside world is as important as connecting your internal network devices to each other.  Make all these exchanges securely with Cisco Small Business RV Series Routers.
---
Cisco Small Business RV Series Routers support:
VPN: Virtual private network technology lets your remote workers connect to your network through a secure Internet pathway. They can access their email and files as if they were in the office.
Security: Built-in firewalls, advanced encryption, and authentication features protect your network from external threats, keeping your business assets safe.
Connectivity: All Cisco Small Business RV Series Routers come with multiple connection options for maximum network expandability.  Whether you're using them for an increased number of physical ports or wireless connectivity, these routers are built to deliver advanced connection sharing.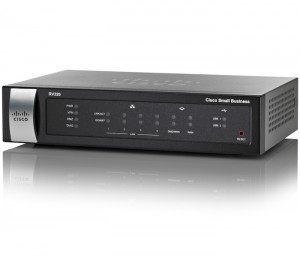 Get Optimal Performance, Security, and Reliability
Keep your employees, your business, and yourself productive and effective. The Cisco RV320 Dual Gigabit WAN VPN Router is an ideal choice for any small office or small business looking for performance, security, and reliability in its network.
Features and Capabilities
The Cisco RV320 Dual Gigabit WAN VPN Router offers:
Dual Gigabit Ethernet WAN ports for load balancing and business continuity
Built-in 4-port Gigabit Ethernet switch
Strong security with proven stateful packet inspection (SPI) firewall and hardware encryption
High-capacity, high-performance, SSL, IP Security (IPsec) VPN capabilities
Intuitive, browser-based device manager and setup wizards
Specifications at a Glance
PerformanceSupports Gigabit Ethernet speeds for internal and external wired connections; easily manages large files and concurrent users to keep employees productive
Simple, highly secure accessConnect multiple locations and remote workers using VPN, or set up separate virtual networks and access rules to help secure sensitive data
Ease of useCan be deployed directly out of the box; setup wizards reduce configuration time to minutes
FlexibleUSB ports provides the ability to use 3G and 4G modems for broadband failover
Ask us how we can protect your Business!
Recent Posts

Recent Comments

Archives

Categories

Meta